Wilmington's Guinness Book World Record Holder of the World's Longest Residential Fiberglass Lap Pool!!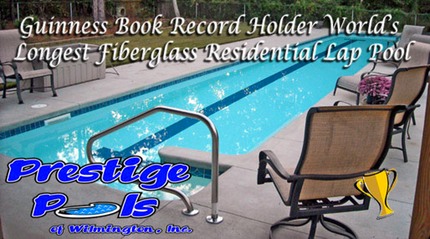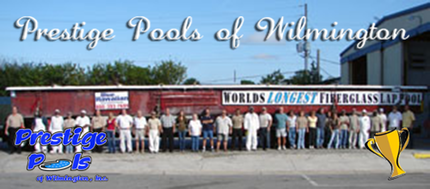 Built by Blue Hawaiian Fiberglass Pool Company of Largo, Fl, this 60 foot, custom made, residential lap pool was installed in Wilmington, NC by Prestige Pools of Wilmington.
Florida's Fox 13 News proided coverage as the pool began its journey to Wilmington on January 5th, 2008.
Thirty two Blue Hawaiian employees stand in front of the "World's Longest Residential Home Fiberglass Lap Pool" as it leaves the factory.
The pool is cited in the "Guinness Book of World Records" as the worlds longest reisdential home fiberglass lap pool and was proudly installed by Prestige Pool & Spas of Wilmington, NC.
Helping families have fun - that's us!! Prestige Pools & Spas of Wilmington, NC.